1 teaspoon

70-80 degrees

approx. 20 sec.
Dosage: The content of a 20g pack of Matchatto is enough for about 20 cups.
SECURE PAYMENT
with PayPal, Sofort, Klarna, debit or credit card
FAST DELIVERY
within 2-4 days
FREE SHIPPING
from 25 EUR in Germany

20% SALE
20% on every subscription with a minimum term of 3 months
Non-stop energy and enjoyment and save 20%!
Our Matchatto creations are so delicious that they belong on the table every day. This is now particularly easy and inexpensive with our Matchatto enjoyment subscription. You get 3 matcha teas per month delivered to your home on time. So you can enjoy your favorite Matcha every day. Whether alone or with your family - the approx. 60 tea portions are the perfect supply for a month.

The subscription at a super low price comes easily to your home and you save 20%!



Who has the choice, has the pleasure
Choose your favorite variation from our Matcha sets and order a subscription here. You will automatically receive the first delivery as soon as possible. You will receive another Matchatto set every month, so that you are supplied for a total of 3 months.

You find out with the first set that you prefer a different variety? No problem. You can easily change your organic matcha tea variation for the next delivery in your customer area.



You can choose from the following variations:
Fruity and fresh: orange + lemon + mint offer a varied, delicious selection of matcha tea for every day.

Hearty and spicy: Moringa & Cardamom + Mint + Pure - Matcha teas for everyone who likes it strong and a little exotic.

Aromatic and sensual: mint + moringa & cardamom + orange - a beautiful matcha blend of freshness, aroma and sensual fruit.

Fruity, fresh and spicy: lemon + pure + moringa & cardamom - the fruity freshness of the lemon offers a pleasant contrast to pure matcha and the oriental taste of moringa & cardamom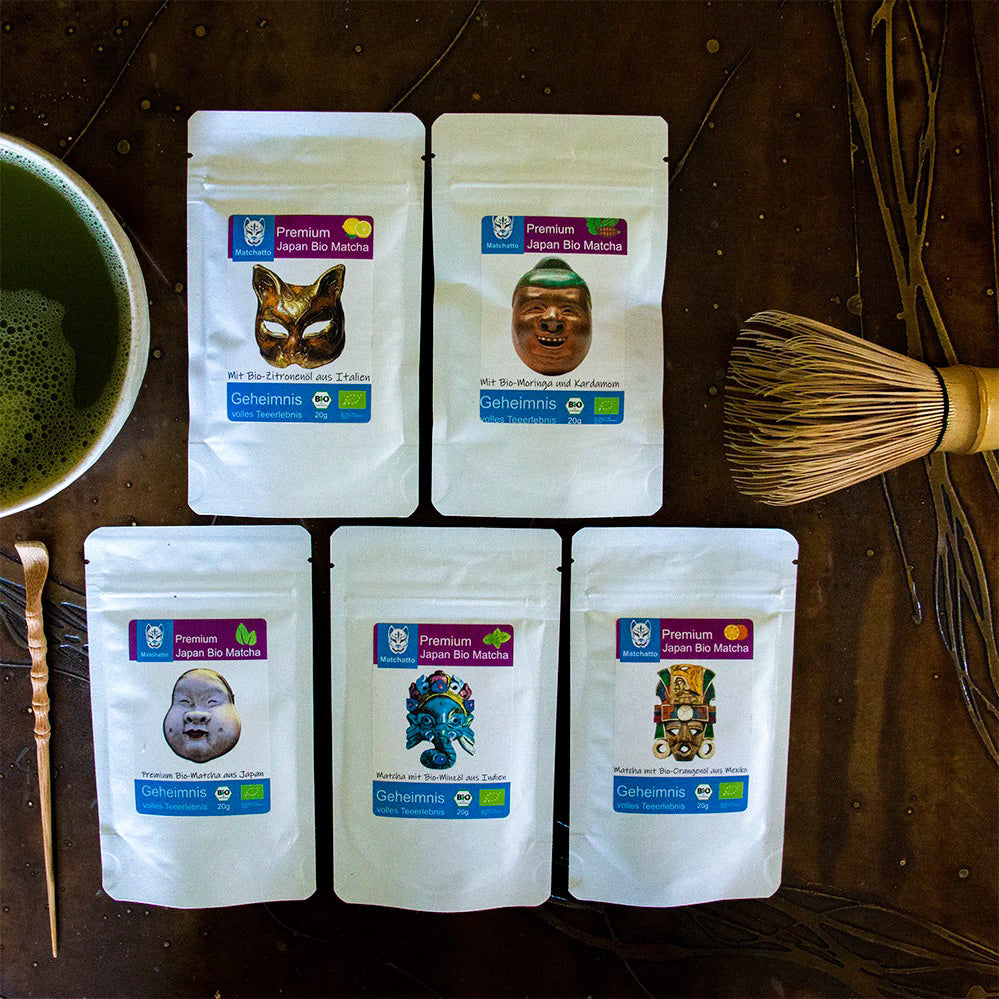 Do you already know our trial packages?
Matcha tea tasting pack
5 delicious varieties from our tea range

Organic certified premium matcha tea powder from Japan
Included in the package: Orange, Lemon, Mint, Pure, Moringa & Cardamom
Laboratory-tested ingredients from organic farming
In-house organic tea manufacture
High quality standard ( HACCP certified)
Matcha Drops Compacts Trial Pack
4 types of Matcha pellets in a trial package

Organic certified premium matcha pellets
Mint, Guarana Lemon, Pure and Guarana
Laboratory-tested ingredients from organic farming
In-house organic tea manufacture
High quality standard ( HACCP certified)
Matcha tea tasting pack with coconut sugar
5 delicious matcha teas with coconut blossom sugar

Organic certified premium matcha tea powder from Japan
Included in the package: Orange, Lemon, Mint, Pure, Moringa & Cardamom
Slightly sweetened with sugar from the blossoms of the coconut palm
Laboratory-tested ingredients from organic farming
In-house organic tea manufacture
High quality standard ( HACCP certified)