Easy to prepare
Put about 2-3 grams of matcha latte powder in a glass. Stir with a beverage frother until fluffy. Pour hot water at 60-80 degrees. Pour the matcha into a shaker cup. Pour in the frothed milk. Sprinkle matcha powder on top. Close the cup and shake. Put the drinking straw in and enjoy.
SECURE PAYMENT
with PayPal, Sofort, Klarna, debit or credit card
FAST DELIVERY
within 2-4 days
FREE SHIPPING
from 25 EUR in Germany

10% DISCOUNT
10% on your first order with the discount code: 10NEW
Pure organic matcha latte powder with a gently sweet orange note
Are you looking for a delicious milk mix drink in the style of a latte macchiato, but without the coffee? Then you should definitely try this Matcha Latte powder to create a unique pick-me-up. With its slightly spicy matcha taste and a hint of orange aroma, complemented by the mild sweetness of coconut blossom sugar, this powder offers an incomparable taste experience. It harmonises perfectly with milk or plant-based milk alternatives and is free from artificial ingredients of any kind.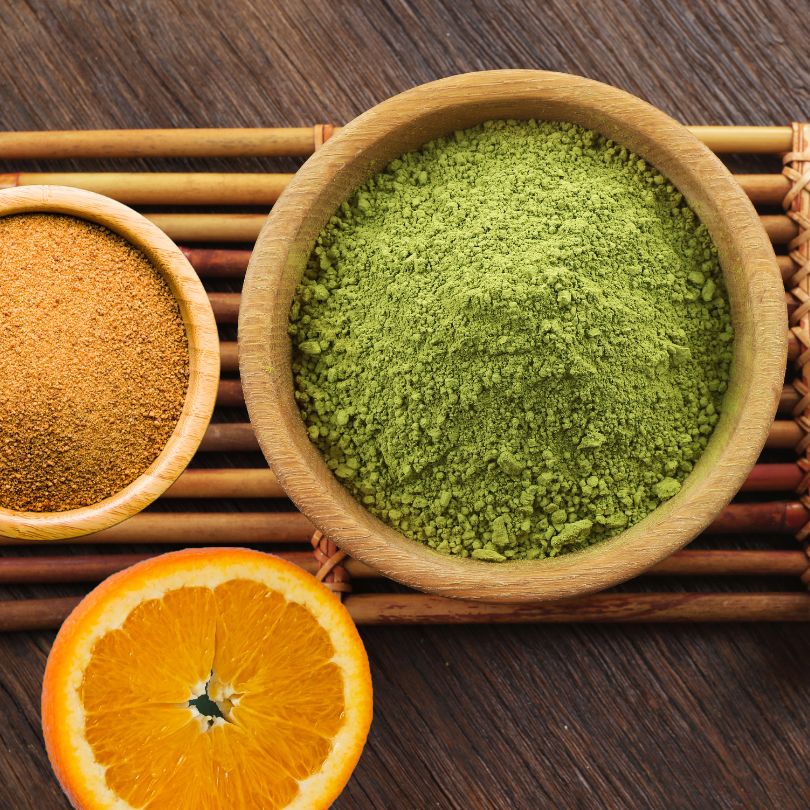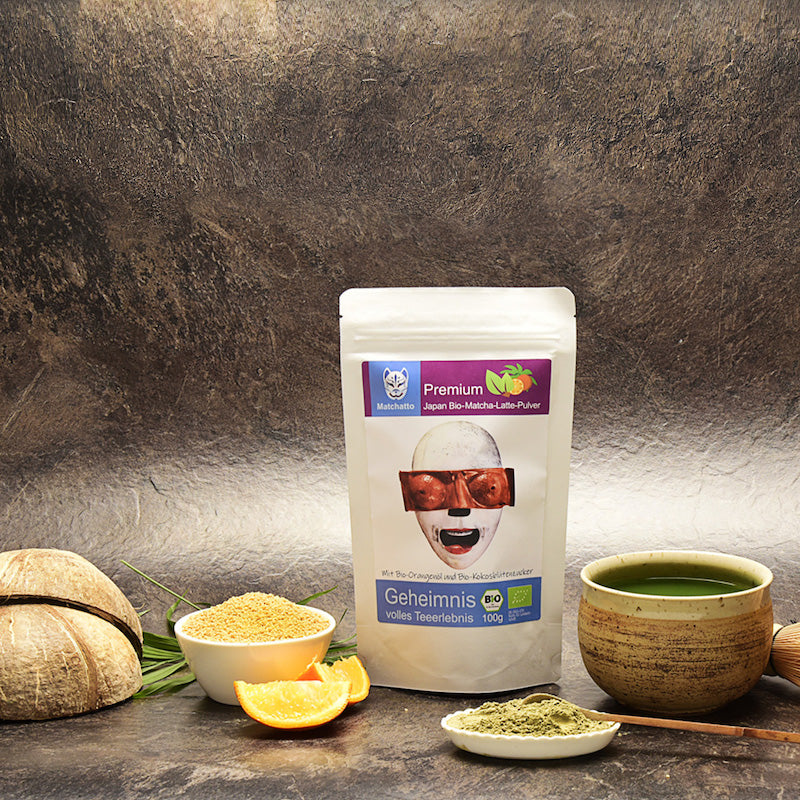 Matcha Latte for enjoyment and well-being
Our Matcha Latte Orange with coconut sugar is a beneficial energy boost for your being. The essential orange oil has a beneficial effect on body and mind. In combination with the revitalizing matcha tea, it can have a supportive effect on various physical ailments. On a psychological level, the orange acts like a ray of sunshine, illuminating your system and helping you to defuse problems and negative emotions. Fears are calmed and you feel cheered up in a gentle and loving way. In combination with the coconut blossom sugar and the milk, you get a drink that nourishes and strengthens you on many levels.



Special features of the organic Matcha Latte from Matchatto
The pure organic Japan Matcha is freshly bottled for you in our in-house certified organic manufactory in Berlin and comes straight to your home after your order. We source our organic Matcha from the southern region of Kagoshima in Japan. Here the plant grows on volcanic rock and thrives particularly well. The climatic conditions prevailing there are ideal so that the matcha plant can form a particularly large number of vital substances. Only the first leaves of the tea plant are handpicked and gently processed into our Matcha powder. Our organic matcha latte powder with orange and coconut blossom sugar contains no other additives apart from organic matcha powder, essential organic orange oil and organic coconut blossom sugar.



Our diverse varieties of Matcha Latte powder