Matcha tea powder from Japan
Matcha tea powder is becoming increasingly popular. But what makes this green tea powder so special?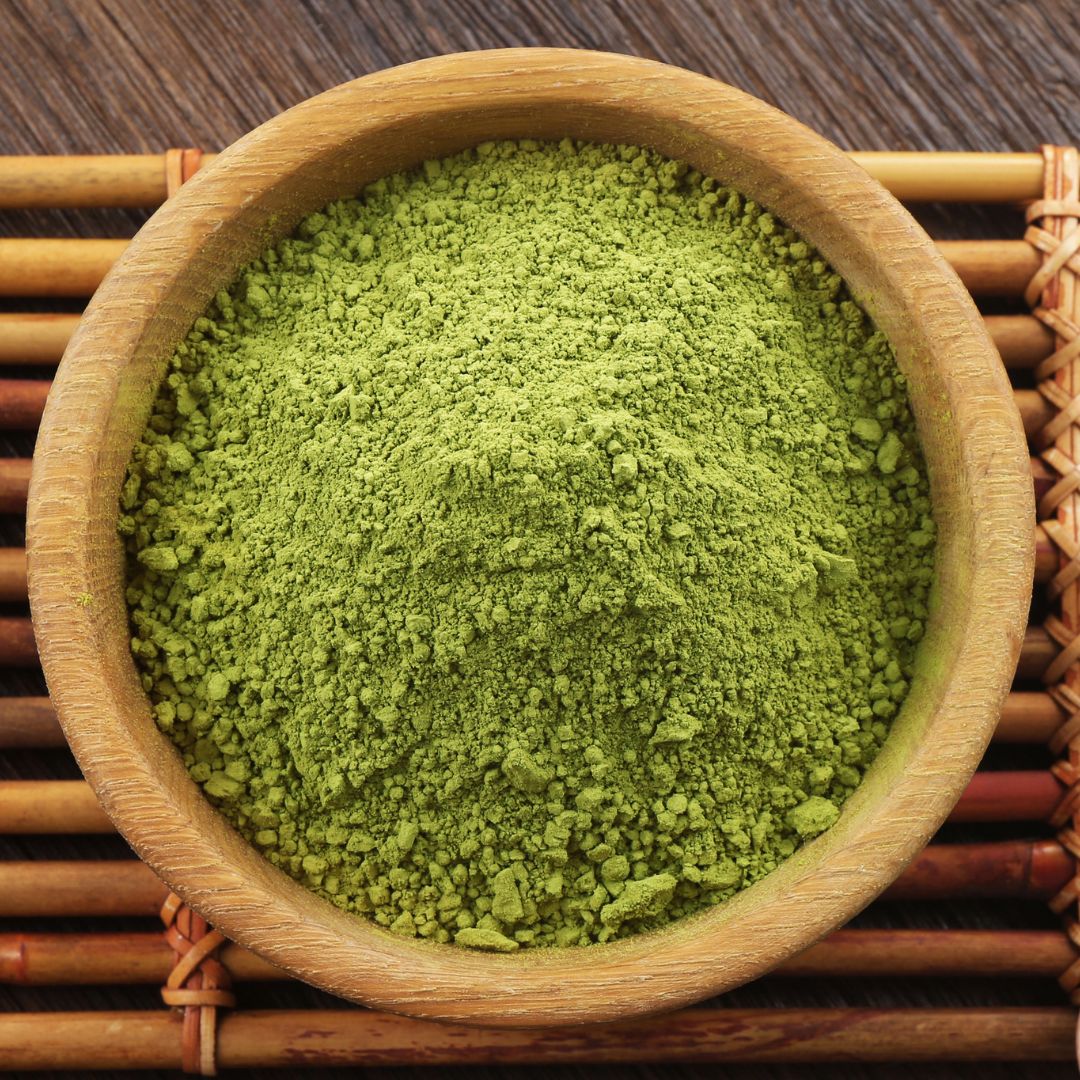 The secret of matcha tea powder and how you can use it for yourself
Matcha tea is becoming increasingly popular. Because the green powder from Japan is a real superfood and a valuable contribution to your well-being.
But what makes this green tea powder so special? In the online guide on our site you will find out everything you need to know - from cultivation and production to tips for preparation. And of course we will also tell you what the special secret of Matchatto is. So stay tuned!
What is matcha tea?
Let's start with the basics - what is matcha tea anyway?
Matcha is a special type of green tea. Basically, all types of tea come from the tea plant Camelia senensis. For matcha, the leaves of the green tea plant are harvested, but only after they have gone through the slightly different cultivation steps typical of matcha.
Let's take a closer look at these now.
Cultivation of matcha tea
What distinguishes Matcha tea from other green teas is the special way in which this product is cultivated. The tea plants are shaded about 3-4 weeks before harvest. Due to the lack of light, the tea leaves develop a lot of chlorophyll and there is a high concentration of valuable ingredients and nutrients.
The valuable antioxidant EGCG (epigallocatechin gallate), for example, is contained in matcha powder in a concentration that is about 3 times higher than in the leaves of simple green tea.
This explains the amazingly positive effect of matcha tea on our well-being and health. The high chlorophyll content is responsible for the strong green color of this tea powder.
Since the cultivation of Matcha is so complex and requires special know-how, there are only a few hundred tea farmers in Japan who cultivate this special form of cultivation.
How is matcha tea made?
To make Matcha tea, the leaves of the green tea plant are harvested by hand. Both the stems and the veins of the leaves are removed, leaving only the tender flesh of the leaves. The tea in this form is called Tencha and is gently processed in the following steps.
How is matcha tea powder made?
To process the tea leaves, the tender leaf flesh is steamed. This stops the fermentation process. The leaves are then gently dried.
In the last step, the leaves are ground very finely into green tea powder in special granite mills.
Did you know? Matcha means "ground tea" in Japanese.
All the steps in the production of matcha powder are traditional, mostly done by hand. How much green tea powder do you think a granite mill can produce in an hour - 1 kg? No! A granite mill can only grind about 30-40 grams of powder in 1 hour.
No wonder matcha tea is a premium product with a relatively high price that is becoming increasingly popular around the world.
How do you recognize high-quality matcha powder?
If you want to enjoy Matcha and benefit from the special effect, you should only use high-quality organic Matcha powder . After all, you eat all the leaves - including the pollutants in the worst case.
In addition to the organic quality, the color is an important feature of high-quality Matcha. The powder should be as bright green in color as possible. You can also see this very well in the foam during the preparation of Matcha.
Of course, you can also recognize Premium Matcha by its taste. This should be mild, with a slightly nutty aroma and a delicately sweet note. If your matcha powder smells fishy and tastes sour and very bitter, you have unfortunately gotten a bad quality.
Of course, that won't happen to you with Matchatto-Matcha ! Our Matcha products are a real treat both pure and with our unique recipes and balanced taste.
What ingredients make matcha powder so valuable?
Matcha contains the same ingredients as green tea - only in a much higher concentration.
Valuable ingredients include:
Lots of vitamins and minerals

A high concentration of catechins as antioxidants such as EGCG (epigallocatechin gallate)

L-theanine and other important amino acids

bitter substances
All of these ingredients are what make matcha tea so beneficial to our health.
The effects of matcha tea
You can find out more about the positive effects of matcha in our article "Everything you need to know about the effects of matcha tea".
Here is a short summary:
Matcha tea is a healthy pick-me-up that is much gentler than coffee and rarely has side effects. The special combination of ingredients ensures that Matcha stimulates and calms at the same time. This also promotes concentration and leads to a relaxed alertness.
Matcha powder helps to strengthen the immune system, protects against free radicals and can, among other things, help with diabetes and in the context of weight loss processes.
Preparing Matcha: How can you achieve the highest possible effect?
Surely you now want to know how to prepare your matcha powder . We have also written a detailed article for you on this.
Here you get a short overview. The nice thing is that you don't need a filter or any complicated device to prepare it.
To make this trendy drink yourself, put some matcha powder in your matcha bowl - if necessary, a cup will do. Then you pour with a small sip of hot water. The temperature should be between 60 and 80 degrees, not above. Then you stir the powder with the bamboo whisk and pour on the remaining water.
Your matcha tea is ready.
If you don't have a Matcha whisk yet, that's okay too - a small whisk or milk frother will work too. And of course you can also find such bamboo brooms in our online shop - as a gift idea for yourself or a friend.
But of course there are many other ways of preparing tea.
Matcha powder in Japanese tea ceremony
The preparation of Matcha plays a special role in the Japanese tea ceremony. There is a particularly fine ceremonial matcha powder for such a ceremony. But for a small tea ceremony at home, a normal, high-quality organic matcha powder is also sufficient.
The traditional tea ceremony in Japan follows 4 principles:
harmony (wa)

respect

purity (be)

silence (jaku)
Sado, the way of tea, as the tea ceremony is also called, is about internalizing these principles and living them towards the drink, the participants and fellow human beings and towards oneself.
The training to become a tea master takes many years - and yet it is a path that has no end.
You can also develop your own little tea ceremony with the right accessories. All you need is a nice Matcha bowl , a bamboo whisk - the Cha Sen with holder and the bamboo spoon for dosing. To save you the search, we have linked the products in our online shop .
And not to forget: the matcha powder and of course hot water.
Take your time and be particularly careful when preparing your matcha tea. It's about a kind of meditative state through which you get more and more connection to yourself.
Matcha latte - another trendy drink
If you like to drink latte macchiato with an espresso, you will also love our matcha latte .
For this you need about 200 ml of frothed milk or milk alternative, matcha powder of your choice and a little 60-80 degrees hot water.
In the first step you put the powder in your glass. Then you pour in a small sip of hot water and stir it up vigorously with the Matcha whisk or a small whisk. Now you pour on the previously frothed milk - you can already drink your latte matchatto.
You can also find a video for the latte matcha recipe here.
Baking and cooking with organic matcha powder
The nice thing about the powder is that you can not only use it for delicious teas, smoothies and other drinks, but even for healthy recipes .
On our website you will find numerous delicious suggestions for making delicious desserts and savory dishes with matcha powder.
To give you just a few suggestions for all the delicious things you can conjure up out of matcha powder:
Cakes and cookies with matcha powder in the batter or as a topping

Matcha jam

Matcha pesto

Matcha Candy

matcha ice cream
Where can you buy matcha powder?
There are of course many sources where you can buy matcha powder. In any case, we recommend providers who specialize in Matcha tea and understand something about it. It is important that you only buy matcha in organic quality.
Why should you buy your matcha tea from Matchatto?
At Matchatto you can easily buy your organic matcha tea online.
Our premium organic matcha powder is characterized by a particularly good price-performance ratio and an excellent taste.
The outstanding quality is repeatedly confirmed to us by our customers, whose ratings of our matcha powder are 5 stars. Independent experts also honor our products - for example with the best rating of 1.05 as the comparison winner in "Experts test" in December 2022.
Can matcha powder be mixed?
At Matchatto, we asked ourselves this question from the start. In a short time, numerous own recipes were created in which the organic matcha powder is mixed with selected spices, herbs or other natural ingredients.
Since we mix and bottle all our teas ourselves in our in-house factory, we have every opportunity to bring innovative combinations onto the market time and time again.
All of our teas are completely natural with no artificial flavors.
Matchatto: The special organic matcha powder
You are probably now wondering which types of organic matcha powder are available from Matchatto.
In our online shop you will find the complete selection of all articles. Here we would like to give you some insight into the most important product creations. In addition to the pure organic matcha powder, we have the following on offer for your shopping cart:
Do you have any questions about your matcha powder? Then please contact us.
Otherwise, we can only recommend that you simply plunge into the Matchatto adventure and try our delicious recipes.
Under the menu item Shop you will find a clear list of all our products without a long search. As soon as all the items of your choice are in the shopping cart, you can enter your address and the shipment will take place as quickly as possible.
Your delivery will arrive within a few days and you can enjoy your organic matcha as soon as you receive it.
You will of course receive all further information during the ordering process.
We hope you enjoy discovering all the secrets of our various types of matcha powder!
Our diverse varieties of Matcha tea
Matcha tea pure

Matcha tea with coconut sugar

Matcha tea with spices



Matcha tea with organic oils


Matcha tea with mate


Matcha tea with green coffee