1 teaspoon

70-80 degrees

approx. 20 sec.
Dosage: The content of a 100g pack of Matchatto is enough for about 100 cups.
Hat alles gut geklappt, Qualität gut wie immer
Tolle Produkte und sympathisches Unternehmen
Ich habe schon wiederholt bei Matchatto eingekauft und bin jedes mal wieder begeistert. Die Lieferung geht super schnell, die Matcha-Tees schmecken hervorragend und das Matcha-Set, das ich bestellt habe, bereitet mir täglich viel Freude.
Schnell und lecker
Kaum hat man sich an den täglichen Genuss gewöhnt möchte man ihn nicht mehr missen. Danke für die schnelle Zusendung - wie immer perfekt!
Kamm rechtzeitig an war alles ok
Alles super
Alles super, schöne Verpackung, schneller Service und wunderbarer Matcha.
SECURE PAYMENT
with PayPal, Sofort, Klarna, debit or credit card
FAST DELIVERY
within 2-4 days
FREE SHIPPING
from 25 EUR in Germany

10% DISCOUNT
10% on your first order with the discount code: 10NEW
Matcha with Orange
Our Organic Matchatto Orange is a tea blend made from particularly high-quality ingredients. Ingredients include Organic Japan Matcha and Organic Orange Essential Oil. Nothing else. Our organic matcha gets a wonderfully pleasant fruity note with the orange oil and can enrich the taste of natural organic matcha. The ingredients are known for their health benefits. As a high-quality tea, Matchatto is certified organic and free from artificial additives. Organic Matchatto contains a particularly well-tolerated type of caffeine. This makes it a healthy alternative to coffee.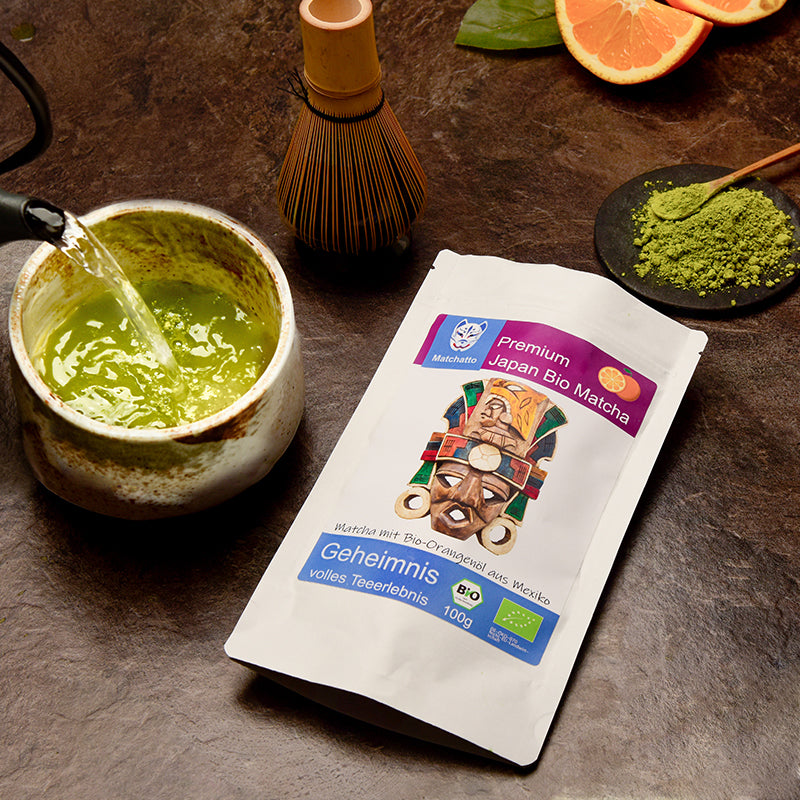 Matcha for mind and body
Find out how you can do your work more relaxed. Whether at home in the home office, in the office at work or on a long drive, sitting for a long time and still staying focused often seems difficult. A quick cup of coffee doesn't always help. Organic Matchatto Orange could be your solution. Discover the secret of Matchatto Orange. Wonderfully fresh taste of orange combined with the "superfood powers". Organic matchatto has natural caffeine and does not have a negative effect on the circulation or stomach. Matchatto has a long-lasting natural "push" and awakens your spirits. The concentration increases and there is no nervous circulatory problems. Organic matchatto tastes delicious and can stimulate your work. And now you too can discover the secret of matchatto.



Special features of our organic matcha
Lovingly handcrafted, our pure organic Japan Matcha is freshly bottled for you in our own organically certified factory in Berlin and is delivered directly to your home after you place your order. We source our organic Matcha from the southern region of Kagoshima in Japan. There the plant grows on volcanic rock and thrives particularly well. The climatic conditions prevailing there are ideal so that the matcha plant can form a particularly large number of vital substances.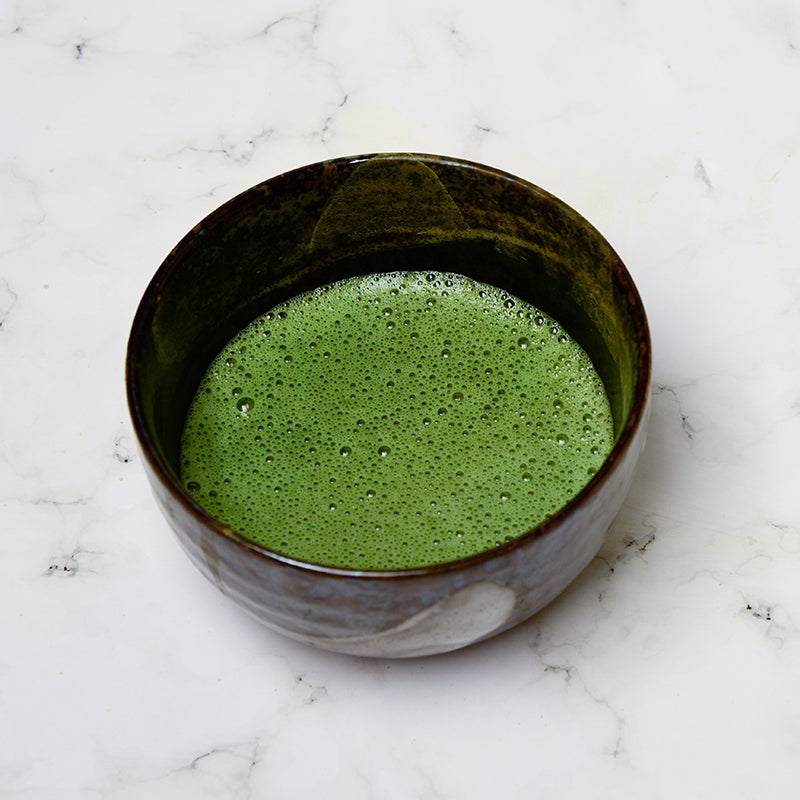 Similar Matcha teas with a fruity note
Matcha Tea Orange 100g
Matcha tea drink for mind and body
Organic certified premium tea powder from Japan
Organic orange oil from Mexico
Laboratory-tested ingredients from organic farming
In-house organic tea manufacture
High quality standard (HACCP-certified)
Matcha Tea Lemon 100g
Matcha tea drink for sport and fitness
Organic certified premium tea powder from Japan
Organic lemon oil from Italy
Laboratory-tested ingredients from organic farming
In-house organic tea manufacture
High quality standard (HACCP-certified)
Matcha Tea Mint 100g
Matcha tea drink for strength and refreshment

Organic certified premium tea powder from Japan
Organic mint oil from India
Laboratory-tested ingredients from organic farming
In-house organic tea manufacture
High quality standard ( HACCP certified)