1 teaspoon

70-80 degrees

approx. 20 sec.
Dosage: The content of a 20g pack of Matchatto is enough for about 20 cups.
Toller Service- leckerer Tee!
Sehr zufrieden! 5 Sterne!!! Kann ich nur weiter empfehlen!
Toll finde ich die Machateevielfalt in Bio Qualität zum fairen Preis. Bin Matcha Anfänger und glaube ich bleibe dabei 😀
Leckere Sorten
Hallo, ich habe das Probierpaket bestellt und bin Matcha Neu-Feinschmecker.
Nachdem ich nun einen (totalen und teuren) Reinfall mit dem Produkt eines anderen Anbieters für Matcha-Latte erlebte (20g Matcha, 80g Kokosblütenzucker..) bin ich
nach meinem ersten Becher Matcha von Matchatto (mit Minzöl) unglaublich überrascht, wie gut Matcha und selbst gemixte Matcha-Latte daraus schmecken kann!!
Auch die anderen Sorten im Probierpaket kann ich nur empfehlen. :-) vielen Dank!
(Matcha-Pulver mit heißem Wasser mixen, ziemlich warmen ungesüßten Haferdrink/ Milchersatz mit einem Stückchen weißer Schokolade in den Becher geben, aufschäumen, mit gemixtem Matcha auffüllen und genießen. Hammer :-) )
Sehr zufrieden
Wir haben den Tee das erste mal gekauft und sind sehr zufrieden.
Empfehle ich gerne weiter
Schnelle Lieferung, bequeme Zahlungsmöglichkeiten, super leckere Sorten. So empfehle ich gerne weiter.
SECURE PAYMENT
with PayPal, Sofort, Klarna, debit or credit card
FAST DELIVERY
within 2-4 days
FREE SHIPPING
from 25 EUR in Germany

10% DISCOUNT
10% on your first order with the discount code: 10NEW
5 delicious flavors in one package
Our matchatto tea not only tastes good, it also has many positive effects on body and mind. The caffeine in matcha tea is much gentler than the caffeine in coffee, cola or energy drinks. The tea brings long-lasting alertness, promotes concentration and at the same time gives inner peace.

But which Matchatto should I take?

The choice is not that easy. So just find your favorite flavor now. Get 5 varieties from our Matchatto tea range in the trial package. So you can easily try your way through all varieties!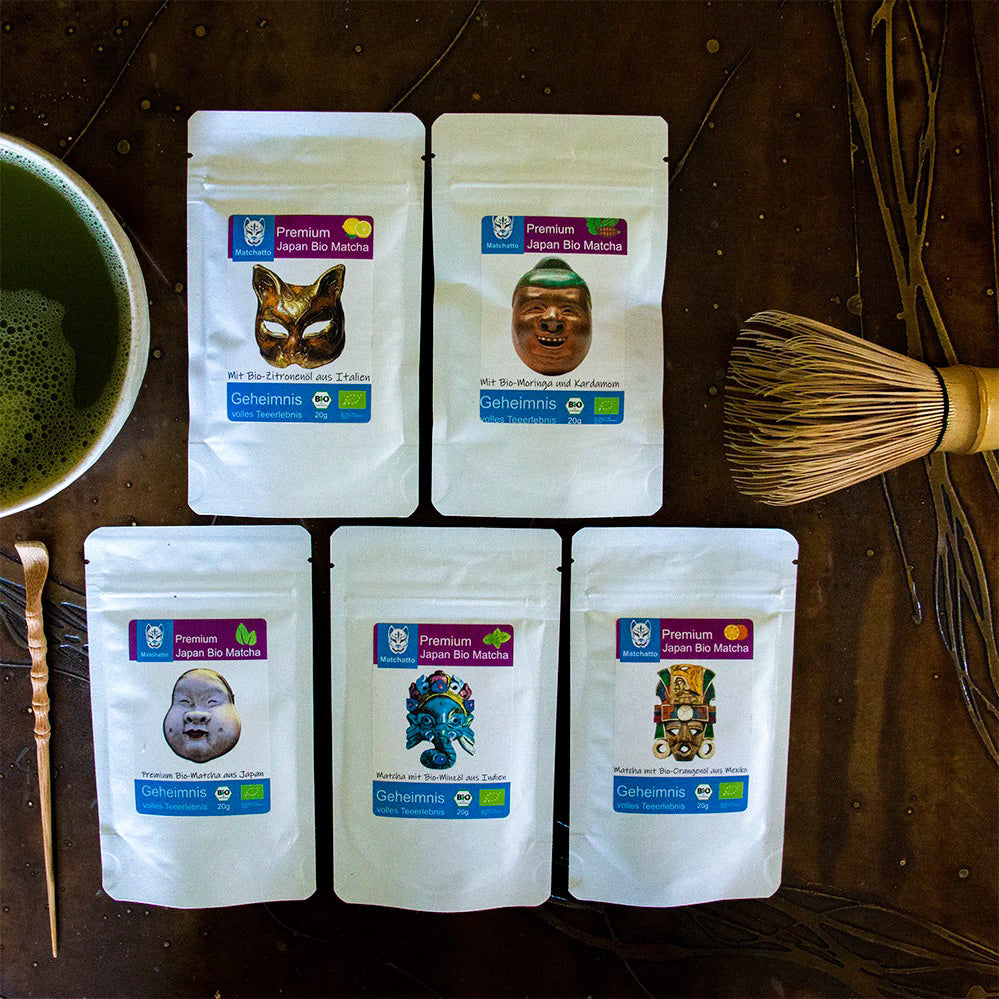 It's in the trial pack
The following 5 types of tea are included:
• Organic Matcha with organic orange oil
• Organic Matcha with organic lemon oil
• Organic Matcha with organic Moringa and cardamom
• Organic Matcha with organic mint oil
• Pure organic matcha
Our sample pack contains 5 varieties from our Matcha tea range. Lovingly filled in 20g bags.
Special features of our organic matcha
Lovingly handcrafted, our pure organic Japan Matcha is freshly bottled for you in our own organically certified factory in Berlin and is delivered directly to your home after you place your order. We source our organic Matcha from the southern region of Kagoshima in Japan. There the plant grows on volcanic rock and thrives particularly well. The climatic conditions prevailing there are ideal so that the matcha plant can form a particularly large number of vital substances.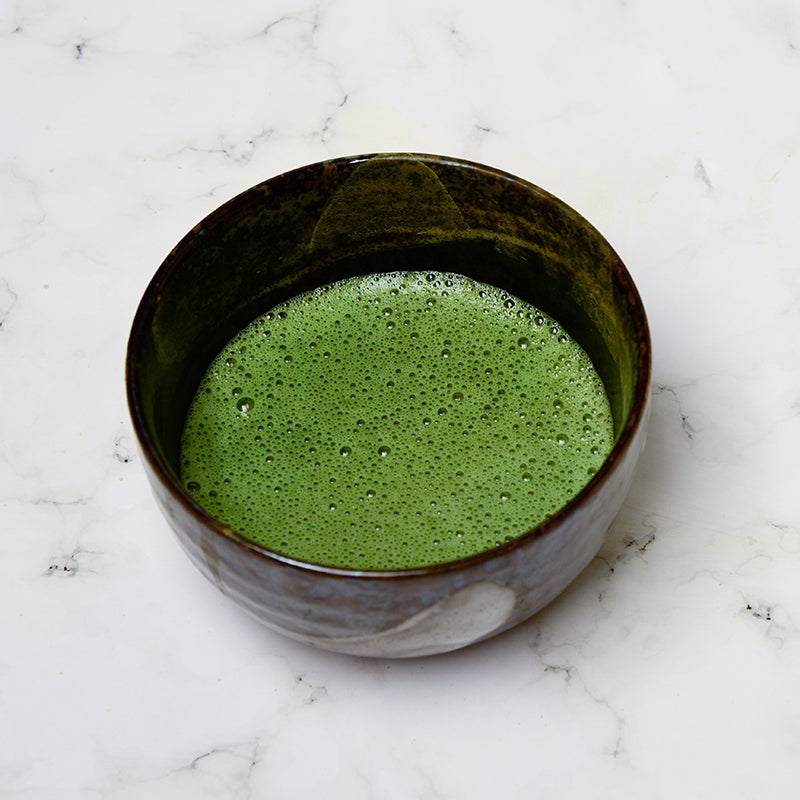 More Matcha sample packs in the shop
Matcha tea tasting pack
5 delicious varieties from our tea range

Organic certified premium matcha tea powder from Japan
Included in the package: Orange, Lemon, Mint, Pure, Moringa & Cardamom
Laboratory-tested ingredients from organic farming
In-house organic tea manufacture
High quality standard ( HACCP certified)
Matcha Drops Compacts Trial Pack
4 types of Matcha pellets in a trial package

Organic certified premium matcha pellets
Mint, Guarana Lemon, Pure and Guarana
Laboratory-tested ingredients from organic farming
In-house organic tea manufacture
High quality standard ( HACCP certified)
Matcha tea tasting pack with coconut sugar
5 delicious matcha teas with coconut blossom sugar

Organic certified premium matcha tea powder from Japan
Included in the package: Orange, Lemon, Mint, Pure, Moringa & Cardamom
Slightly sweetened with sugar from the blossoms of the coconut palm
Laboratory-tested ingredients from organic farming
In-house organic tea manufacture
High quality standard ( HACCP certified)