Recommendation: 3 x 2 drops per day
Chew and/or swallow with liquid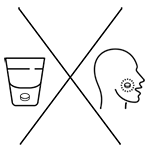 Do not suck or dissolve in liquid
SECURE PAYMENT
with PayPal, Sofort, Klarna, debit or credit card
FAST DELIVERY
within 2-4 days
FREE SHIPPING
from 25 EUR in Germany

10% DISCOUNT
10% on your first order with the discount code: 10NEW
All varieties in one package
Which Matchatto Drops should I take? The choice is not that easy. Just find your favorite drops now. Get 4 flavors from our Matchatto Drops range in the trial pack. In our bundle you will find mint, guarana lemon, pure and guarana. Each variety is filled into a bag with 45 pieces each. So you can easily try your way through all varieties.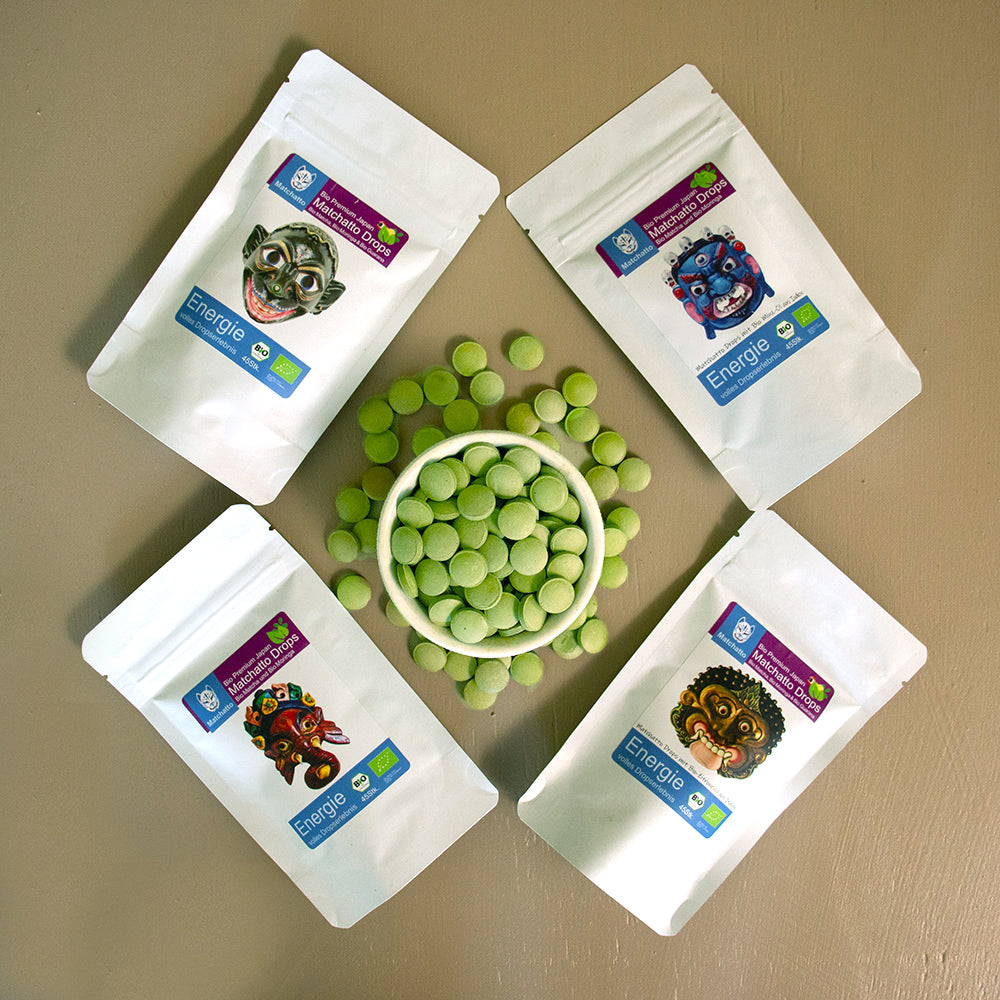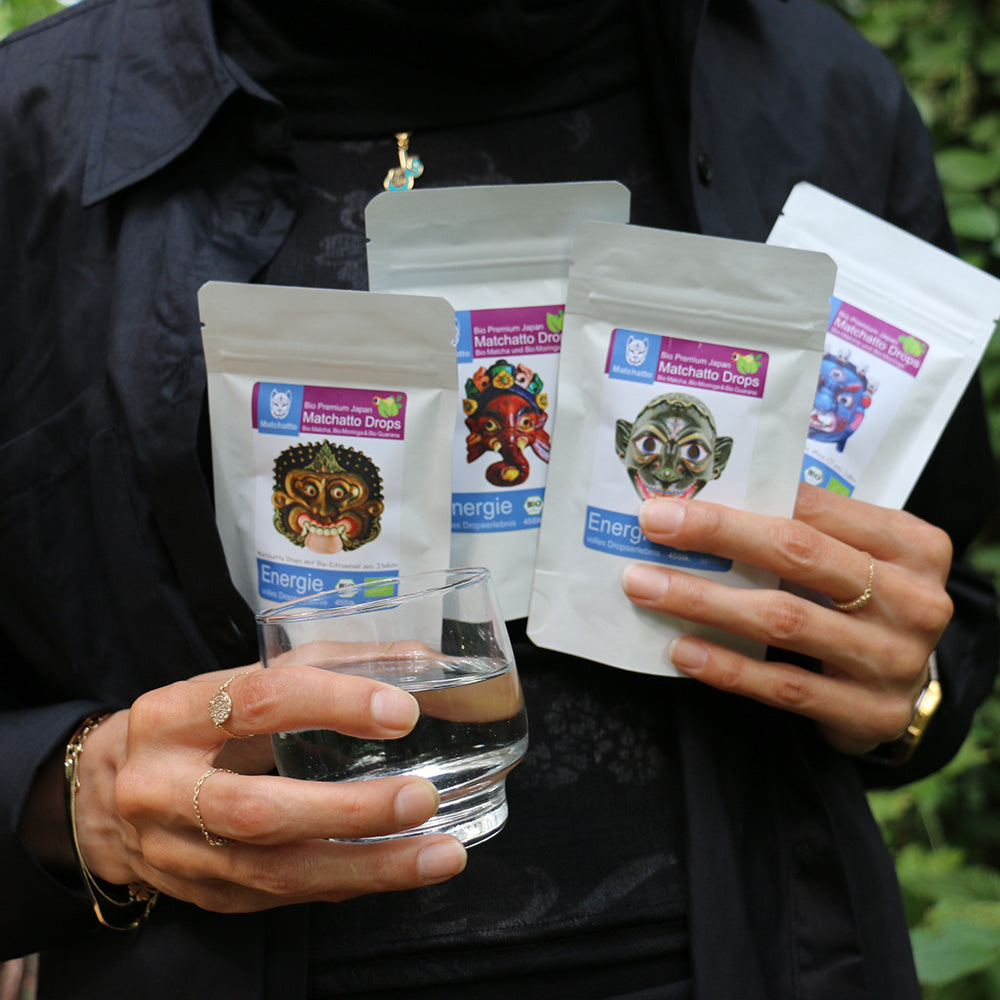 It's in the trial pack
Our sample package contains 4 varieties from our Matcha Drops range - lovingly filled in bags of 45 pieces each.
• Matchatto Drops Mint
• Matchatto Drops Guarana Lemon
• Matchatto Drops Pure
• Matchatto Drops Guarana
Special features of our "Energy to go" Matchatto Drops
Our Matchatto Drops for on the go are made from pressed matcha tea and organic moringa powder without any additives or fillers. You have natural caffeine and all the important nutrients in one drop. The little pick-me-ups for on the go are the perfect energy kick in everyday life, such as for long car journeys, in the office, in practice or seminars, before sports or when you don't have much time to brew a matchatto tea. With the drops in your handbag or trouser pocket, you always have a healthy alternative to counteract tiredness - energy to go, so to speak.



More Matcha sample packs in the shop
Matcha tea tasting pack
5 delicious varieties from our tea range

Organic certified premium matcha tea powder from Japan
Included in the package: Orange, Lemon, Mint, Pure, Moringa & Cardamom
Laboratory-tested ingredients from organic farming
In-house organic tea manufacture
High quality standard ( HACCP certified)
Matcha Drops Compacts Trial Pack
4 types of Matcha pellets in a trial package

Organic certified premium matcha pellets
Mint, Guarana Lemon, Pure and Guarana
Laboratory-tested ingredients from organic farming
In-house organic tea manufacture
High quality standard ( HACCP certified)
Matcha tea tasting pack with coconut sugar
5 delicious matcha teas with coconut blossom sugar

Organic certified premium matcha tea powder from Japan
Included in the package: Orange, Lemon, Mint, Pure, Moringa & Cardamom
Slightly sweetened with sugar from the blossoms of the coconut palm
Laboratory-tested ingredients from organic farming
In-house organic tea manufacture
High quality standard ( HACCP certified)