SECURE PAYMENT
with PayPal, Sofort, Klarna, debit or credit card
FAST DELIVERY
within 2-4 days
FREE SHIPPING
from 25 EUR in Germany

10% DISCOUNT
10% on your first order with the discount code: 10NEW
All-rounder for your drinks
The electric milk and beverage frother is a real all-rounder. Small and handy, you can use it to froth your milk or oat milk, mix your matcha tea, mix dressings or sauces and of course mix all kinds of drinks together. With the high-quality look made of bamboo and stainless steel, it fits perfectly into the aesthetics of your other Matcha accessories. You can finally make a delicious matcha latte with just one device and easily get the soft, green foam on your matcha tea. And best of all: the blender is small enough that you can take it with you when you travel or to the office, so that you never have to do without this practical helper again. So then - to the Matcha, mix and enjoy.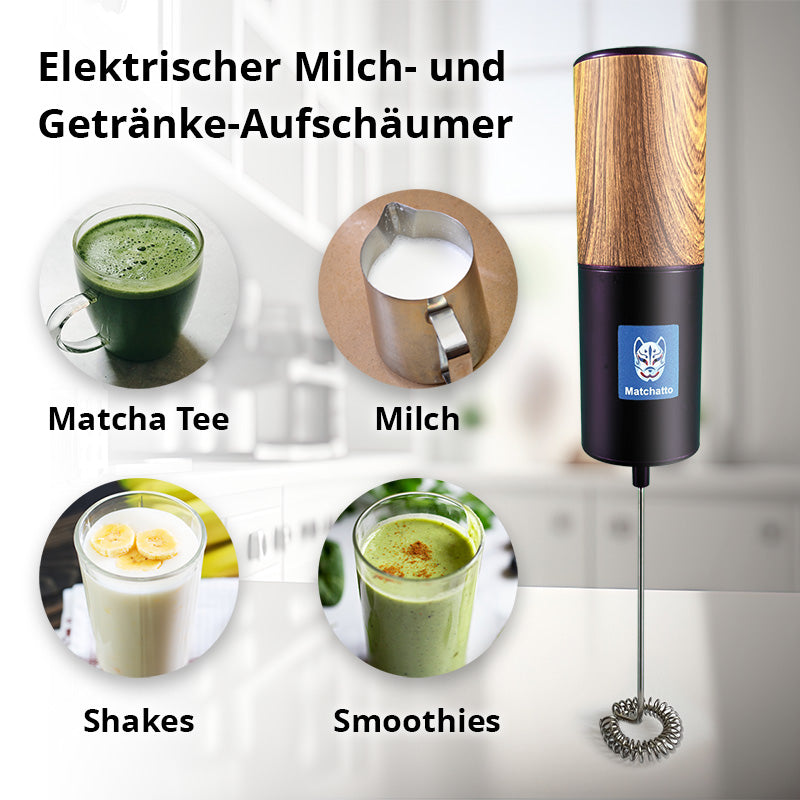 Quality with lots of power
David versus Goliath showed that when it comes to power, size doesn't matter. This handy device has a motor with the power for an incredible 14,000 revolutions per minute (idling). This means that even viscous ingredients can still be whisked well. The mixer needs 2 standard AA alkaline batteries as a power source. The special spiral made of stainless steel helps your drinks to be particularly creamy. The shape and soft-touch surface ensure that this device fits comfortably in the hand. Of course, the stainless steel whisk is food safe and easy to clean. The frother is equally suitable for cold and hot drinks.



Easy application
The use of our milk and beverage frother is very easy. Place the liquids to be frothed or mixed in a suitable container, immerse the whisk portion completely in the liquid and start mixing by pressing the button on the opposite side. Attention - your vessel should not be too shallow and you should always immerse the mixing head completely to prevent splashing. Simply rinse under warm water after use. To mix your matcha tea with the help of this frother, put the matcha powder in your tea bowl and mix it with a little hot water without switching it on. Then you pour the remaining water up to approx. 2-3 cm below the edge and mix the liquid until the desired foam is reached. You can also find detailed instructions for preparing Matcha tea in our blog: Tips for preparing Matcha tea.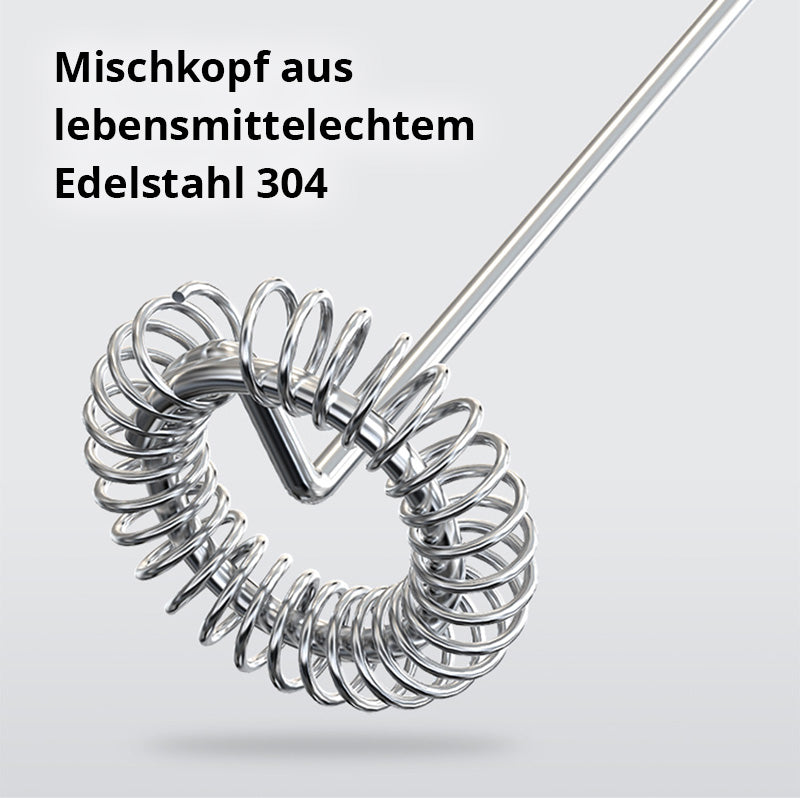 Suitable matcha tea accessories